Call Centre Design
Call Centre's are a vital link between companies and their customers in an increasingly digital business environment and hence the effectiveness of the staff in these call centre's is of paramount importance. One way to increase call centre productivity is to provide an environment in which the call centre agent is comfortable and inspired.
Call centre agents were previously not thought of in the critical role they are now and were often placed in spare space, poorly ventilated with poor lighting, but when you think clearly about the role of a call centre agent as the face of your business dealing directly with your customers, their role, importance, and critical function they perform should have you reaching for the phone.
Call centre design and furniture selection can mean the difference between a call center that delivers and one that simply coasts. We will deliver a call centre environment that will firstly inspire your call centre staff, make them feel needed, give them a purpose in your work plan and having them outperforming your wildest targets.
Good call center design provides a comfortable working environment for the call center agents, minimises noise pollution in each agents working environment and provides good light and workflow.
Call center agents are often your customers first contact with the company
Call us, our input and advise is FREE

Increasing the productivity in any company is really important for the well being of that company. When the productivity in a company is high they can get many benefits. One of those benefits is the customer loyalty. The productivity inside a company  always leads to better customer service and interactions and call centre agents are your first line of contact for many customers.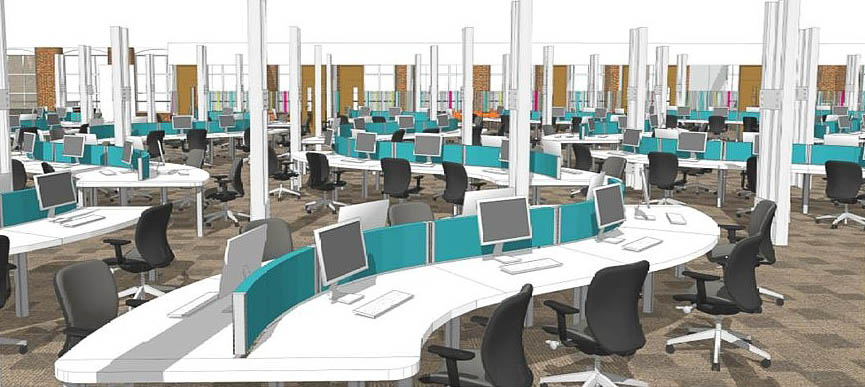 Call Center Office Interior Design
Because of that the customers become loyal to them and they share their experiences with others which will cause for the improvement of the marketing campaigns of the company resulting in having the attention of more people towards the company. Another thing is when the productivity in a company is improved; they can reach their goals in no time which will help for the development of the company. This phenomenon is applicable to call centers too.
We know that increasing the productivity in a call center can lead their success by achieving their goals and by developing their organization. But we should know how to increase the productivity. In accordance to many records and marketing specialists, there are hundreds of ways that can affect for the improvement of the productivity in a call centre. One of those factors which are in the top of that list is the call centre design. This factor will certainly lead to the increase of the productivity in a call center due to many reasons. One thing is that any person likes to work in a clean and well arranged workplace because when the environment they work is serene, they can engage in their work with peace of mind. Like that there are many reasons that will affect this.
When designing your call center you should pay your attention on certain things. You should understand about your call center's role and its goals. When deciding the design for you call center you should consider about your employee's comfort and their needs. And you should decide a design that will maximize the effectiveness and the elegance of the workplace. By considering these things you can come to the best decision with the best call centre design. Prior to do the selection you can have the ideas of your employees and buddies and especially you can have the service of an interior designer. By blending those ideas with yours, you can decide things like how many employees must fit in the workplace once, where should the restroom locate, what kind of furniture you should use in your call center and many more.
One of the main things that you should consider when designing your call center is the furniture used in it. When it comes to furniture there are many varieties. But among them we should select the best one that suits to a call center. When selecting call center furniture we should know about the things like the right desk that will match your call center, right color you should use and the best office layout.
By deciding these things to the perfection, you can have the best call center design at your call center that will lead to increase the productivity in your workplace, so that you can reach your goals and develop your organization. So it is important to pay your attention on these factors.